Payment security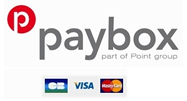 The paybox transactions are made on a https link established between the client and the payment server. Sensitive data, such as the customer's bank card number and its expiration date, are fully encrypted and protected with an ssl protocol in order to prevent the information exchanged could be intercepted in the clear by a third party to the course of the transaction.
Les numéros de cartes sont cryptés instantanément et ne sont pas accessibles par Bike Trip. De plus, Paybox ne conserve pas les numéros de carte et s'appuie sur une infrastructure sécurisée agréée par Visa, Mastercard, et le Groupement des Cartes Bancaires selon la norme PCI-DSS au même titre que les meilleures solutions de paiement proposées par les autres banques.
All pages of the website paybox, as well as the links are secure ssl and have a thawte extended validation security certificate.