Hire a motorcycle in the heart of Nice
Bike Trip has been operating in the Provence Alpes Côte d'Azur region for over 15 years. Thanks to the experience and know-how of our Nice agency, you can't go wrong with you bike hire.We help you to choose the best motorcycle rental package for your stay and your personal needs.Our Nice agency, which is ideally located in the heart of the town centre between Nice railway station and the International airport—a mere stone's throw from the Promenade des Anglais and the Negresco—is an excellent starting point for visiting the city, discovering Monaco, Cannes & Antibes, or enjoying the winding roads and the incredible views offered by French and European roads.
Our team of enthusiasts will make your motorcycle hire experience as pleasant and simple as possible. We are there to advise and guide you so you can hire the best motorcycle for your needs and for your stay with total peace of mind.Between May and October, we are open Mondays to Saturdays from 9:30am-12:30pm & 2:30pm-6:30pm as well as on Sundays from 9:30am-12:30pm & 4:30pm-6:30pm.
Between November and April, we are open every day except Sundays from 9:30am-12:30pm & 2:30pm-6:30pm.In addition to knowing our vehicles inside and out, we also perfectly know the region, France and the rest of Europe. We will be able to guide you so that you can make the most of your bike rental on your chosen routes.
For your safety and security, we provide two helmets, two pairs of gloves and a lock. A top case, side bags, insurance and unlimited mileage are all included in our price. Jackets and GPS are optional.
Book your motorcycle in Nice easily and quickly
Book your motorcycle online. After having selected your motorcycle and your agency, as well as the dates of your stay, you will be asked to pay a 30% down payment via our site's secure online payments gateway. You will then only need to settle the balance with the agency when collecting the vehicle. By booking your bike hire in advance (subject to confirmation from us), you are sure to have a motorcycle available on the day of your departure.
Provided you are over 23 and have been in possession of your driving licence (A) for more than 2 years, just pick up one of our motorcycles on your arrival from one of our agencies (Nice, Menton, Monaco or Cannes) or have it delivered to Nice, Cannes or Monaco Airport, and enjoy a friendly welcome with bike enthusiasts at the same time. Longing for a custom trip? We can help you organise it.
A large range of motorcycles for you to hire in Nice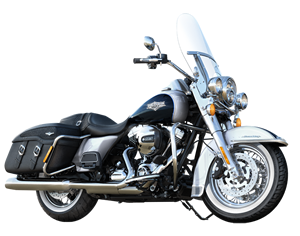 Our legendary bikes
We offer a broad range of legendary motorcycles including the Harley Davidson Forty Eight or Road King, the BMW Nine T, the Ducati Monster and the Royal Enfield Bullet.
Hop on a motorcycle in Nice, Menton, Monaco or Cannes for a weekend, a week or why not even longer? And discover fantastic Alpine mountain roads and passes, the landscapes of Provence or the spectacular roads of the French Riviera.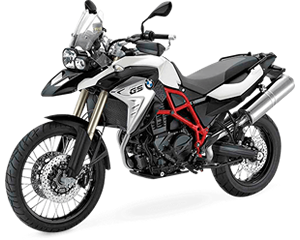 Our classics
Our trail bikes, motorrads and hypermotards are just ideal for spending a weekend, a week or even longer discovering fantastic Alpine mountain roads and passes, the landscapes of Provence or the spectacular roads of the French Riviera. Hire one of the models in the BMW F800 series, e.g. the GS, R or WP. They come equipped with a top case, side bags, GPS, and are easy to handle and control. Their cost-efficient engine and ample luggage room are ideal for making the most of European roads. This motorcycle is comfortable for both the rider and passenger. Whether travelling as a couple, alone, or with friends, it will be the ideal partner for a memorable and successful stay.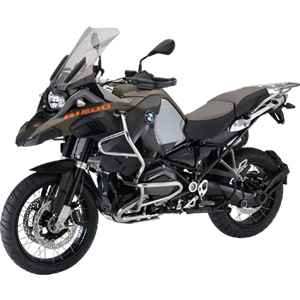 Our adventure bikes
Whether you decide to hire a BMW K1600cc, a Honda Africa Twin 1000cc, a Ducati Multistrada 1200cc or the amazing BMW 1200GS, all our big road bikes let you go the distance with unparalleled comfort. The BMW 1200GS, for example, is a water-cooled touring maxi-trail. The motorcycle has been enhanced in every detail, and continues to be the leader among voyager motorcycles.
This extra-large voyager trail rider offers unparalleled riding comfort. When transporting a passenger, it is extremely comfortable for both the driver and passenger. With its large top case and two side bags, you can easily carry all you need for a weekend, a week or even longer. You can use its GPS to discover spectacular mountain roads. Enjoy Alpine passes, Provence landscapes and spectacular rides along the French Riviera. Effortlessly ride in Switzerland, Italy, Corsica, Spain, Austria or on all of France's great roads without compromising on anything.